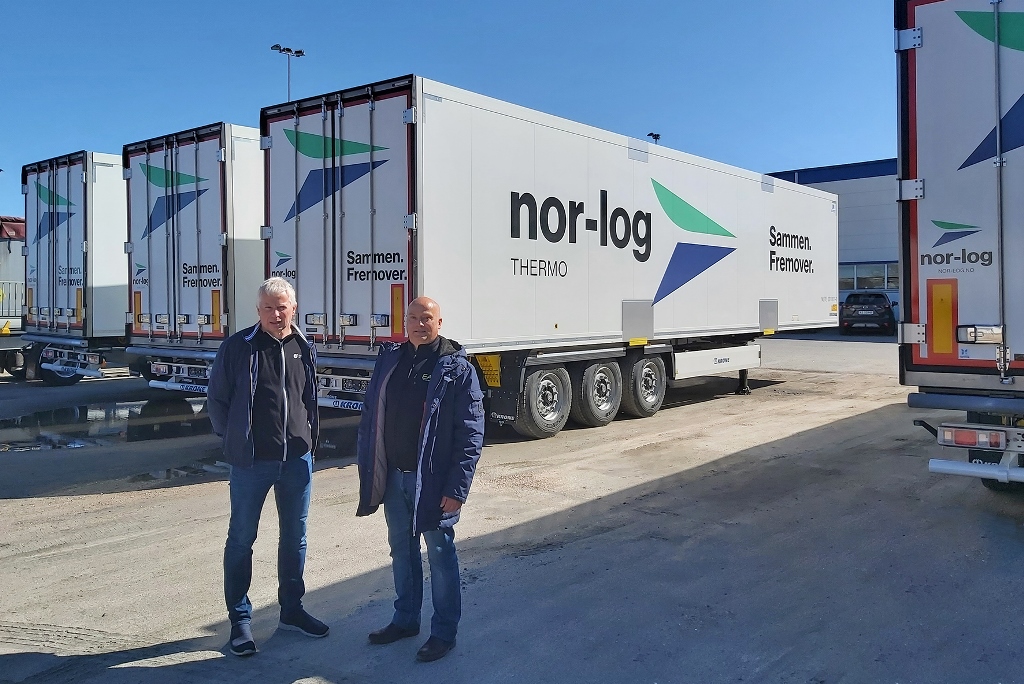 Fresh fish logistics in Norway 55 Cool Liner for Nor-log Thermo
Norwegian food logistics company Nor-log Thermo AS is putting 55 new Cool Liners into operation.
The first batch of Krone refrigerated trailers, specially designed to meet Norwegian requirements, has now been handed over to Ståle Gjerde (Nor-log Group) and Kjell Didriksen (Nor-Log Thermo) by Preben Ferre (Vogn-Service).
50 of the total of 55 new Cool Liners are suitable for combined transport as piggyback trailers and have a typical "Scandinavian" design with long aggregate spacing for optimum load distribution even with 3-axle tractors. Other highlights include the Multitemp solution with variable cooling zone division and a double-deck facility that increases the number of pallet spaces from 33 to 66 Euro pallets. A special solution for Nor-log Thermo is the water channel (fish trough) specially designed for transporting fresh fish, which is recessed in the interior transversely in front of the rear doors in the trailer floor. With optimized collection volume and central water drainage, this enables controlled disposal of leakage water and can also be cleaned easily and quickly thanks to the integrated, removable inspection hatches.
Nor-log Thermo AS, formerly Bring Frigo AS, is part of the Nor-log Group, which also includes Suldal Transport AS and Miniekspress Transport AS. The group specializes in food transport and covers the whole of Norway with a tight network of terminals. In total, the fleet comprises around 500 trucks and 350 refrigerated trailers; in addition, the Nor-log Group works with numerous subcontractors.
Ståle Gjerde, Fleet Manager of Nor-log Group, relies on the proven cooperation and innovative solutions from Krone: "We are looking forward to receiving the new batch of high-quality Krone Cool Liners and have high expectations of the Fish Water Drainage - the best available on the market."The new Cool Liners will first be transported 1,500 km by rail from Oslo, then travel a further 500 to 1,000 km by road until they reach their destinations. All 55 units are scheduled for delivery by the end of Jun
LOJİPORT